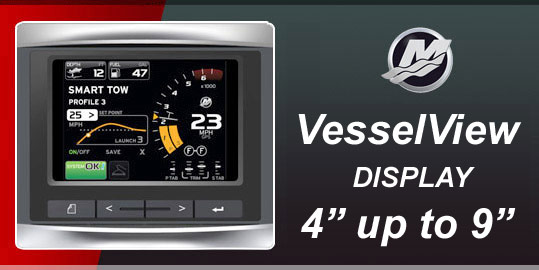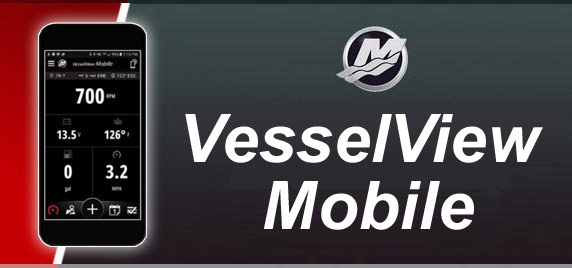 Your total on-board management system
All boat and engine performance data. On full display
Real-time information on dozens of functions
More information and data on more boat and engine functions than any other system in the boating industry: rpm, speed, fuel flow and efficiency, temperature, trim, and more. Monitor up to four engines at a time on an intuitive, "at a glance" 4", 5", 6.4", 7" or 9" LCD screen. It keeps track of everything. So you can keep track of more important things. Like the fish.
More than data - Control
VesselView® is your digital interface to the advanced Mercury SmartCraft® technology. Provides instant access to cruise control, Smart Tow®, troll control, and much more. You have the information. You have the knowledge. You have the control. VesselView.
A choice of screens and packages
VesselView 4 is the standard package with a 4" glass thin-film LCD screen and refreshed graphical user interface. Lets you monitor up to two engines simultaneously. VesselView 7 includes a larger 6.4" touchscreen with a digital interface that lets you access data quickly and effortlessly. Monitor up to four engines simultaneously. Use as a chart plotter. Link to Simrad® radar and sonar and Sirius® Weather. A total digital information hub.
From engine information to vessel systems, the Mercury VesselView903's 9" screen is your information portal for your boat. Mercury VesselView allows boaters to display engine information, genset, sounder info and much more...
Eco-Screen
Reduce the cost of boating by increasing fuel economy, up to 20%
Recommends trim and RPM adjustments to achieve optimal fuel economy
Screen indicators guide adjustments and light up green when achieved
Smart Tow
Smart Tow is the latest engine control advancement from Mercury. Smart Tow enables you to bring your rider out of the water smoothly and with incredible precision by pre-selecting the towing rpm. You will now be able to sit back and enjoy the ride. Smart Tow integrates with the award-winning Mercury DIGITAL Throttle and Shift (DTS) control system providing outstanding reliability and precise performance.
Install yourself?
Vesselview systems are not difficult to install, it's essentially "plug and play".

VesselView Mobile:
Applications: Smartcraft compatible (2002) Engines and newer.
Includes outboard, diesel and Mercruiser products.
---
VesselView Mobile
---
Vessel View 4, 7, 502, 702, 403, 703, 903:
Applications: Gen I (2007) Engines and newer.
Includes outboard, diesel and Mercruiser products.
---
VesselView 4
---
VesselView 7
---
VesselView 502
---
VesselView 702
---
VesselView 403
---
VesselView 703
---
VesselView 903
---
VesselView 4

VesselView 7

VesselView 403

VesselView 502 - 702 - 703 - 903

VesselView